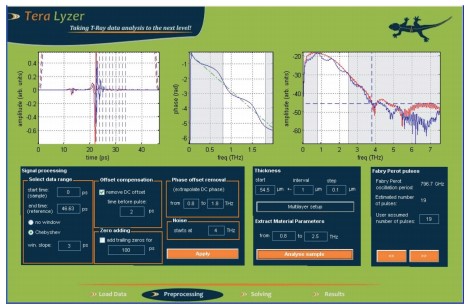 TeraLyzer
THz-TDS Data Evaluation Software for Sub-100 µm and Multilayer Samples
TeraLyzer is a first-of-its-kind software solution for material parameter extraction from terahertz time domain spectroscopy data in transmission geometry. It delivers highly precise information of the complex material parameters of a sample (n, α, κ, ε', ε''), including error bars and the estimated sample thickness.
One of the strong features of the TeraLyzer software is that thin samples in the sub-100 µm regime become accessible to your research without the need for differential measuring setups. Moreover, analysis of multilayer systems promotes a whole new range of experiments.
For a free TeraLyzer trial version contact our expert.
Feaures

■ Broadband Application
■ Sample Thickness Extraction
■ Optical Parameter Extraction (n,a,k,e' and e'')
■ Statistical Error Propagation
■ Data Import and Preprocessing
■ Dynamic Range Correction for Highly Absorbing Samples
Applications
■ Time-resolved THz Spectroscopy in Transmission Geometry
■ Investigation of Sub-100 µm Samples, up to Several mm Thickness
■ Characterization of unknown Layers in a Multilayer System
■ Inaccessible Samples, eg. in a Cryostate
SPECIFICATIONS
Measurable Sample Thickness
<100 µm, up to several mm, multilayer empowerment
Multi-step Procedure
data import (transmission measurement)
data preprocessing (windowing, offset and phase correction)
thickness extraction
extraction of n,a,k,e' and e''
statistical error propagation
Thickness Extraction Algorithms
considering Fabry-Perot reflections (Quasi Space or Total Variation method)
SETUP REQUIREMENTS
| | |
| --- | --- |
| Setup Configuration | flexible import of Menlo Systems TDS data or custom data import |
SYSTEM REQUIREMENTS
| | |
| --- | --- |
| Processor | Intel Pentium 4 or AMD Athlon 64 processo |
| Systems Software | Microsoft Windows XP |
| RAM | 1 GB |
| Display | 1024x768 display with grafic card |
| Data import | THz time-domain measurement data (ASCII) |
| Data export | .csv and .mat |
| Internet Connection | required for license validation |
OPTIONS
■ SINGLE LICENCE Single Version
■ GROUP LICENCE Up to 10 Workstations
■ TRIAL VERSION Valid for 28 Days
더 자세한 설명을 위해서 아래를 방문해 주십시요
http://www.menlosystems.com